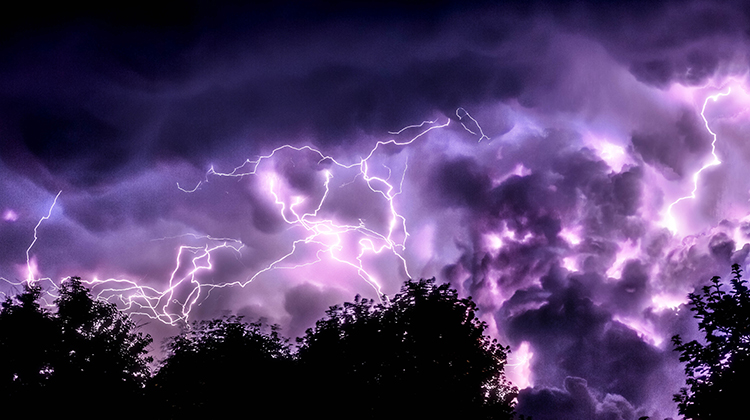 The Delicate Balance of Managing a Special Event in Crisis
To be a successful and prepared event organizer you sweat through all the details for the perfect event for your guests. From the way the tables will be arranged, the music that will be played, the food, the guest list- the last thing you were probably thinking about is some outside force completely wrecking your event plans. What will help you look like a seasoned hospitality professional is what you do next.
We all know many things can happen that can affect the flawless execution of your event - some more serious than others. The natural inclination is to worry about whether it's going to rain or not, we're talking more about major weather events such as flooding, hurricanes, tornadoes- essentially anything that is foreseen, and cancelling the event looks to be your only option. Others crisis that could be created during your event could be an earthquake a fire and worse.
And one such crisis to add to your list is the recent Coronavirus COVID-19 scare that is affecting every corner of our great world. It's a time where the news channels are flooded with reports of the hysteria of stores sold out of toilet paper, hand sanitizer and your kids' schools are sending out closure notifications. This is the critical time that separates the newbie event organizers from the veterans.
Being that CellarPass was founded in the heart of Napa Valley over 10 years ago, we've certainly seen our fair share of natural disasters; from earthquakes, building fires, flooding, wildfires and even event organizers going bankrupt the morning of the event.
This article was designed to help you design your own path forward should one of these crisis effect your special event, whether it's a reservation or a ticketed event. And since not all events are equal, it's best to consider all options and weigh the pros and cons of each. Last, but not least, this is not the time to panic. It's time to collect your thoughts, rally your teams and become a unified and well-oiled team to overcome the obstacles and challenges ahead.
Know the Facts
The first step when you do have to address a crisis, whether it's currently happening or there's a threat of one, is to identify the cause of concern, noting whether it's a natural disaster (think forecast for a hurricane or a tornado in your area or other crisis caused anything from a bomb threat, to riots, power loss or worse. Essentially is it happening now, or is it going to happen? And at what scale? Will this effect only our event, or is it going to affect a much larger area? Lastly, how long do we expect this to last? Long story short is that you need to understand all the variables, understand all the levels of risks as no event is worth risking lives.
By all means, this article will in no way written to cover every conceivable crisis situation, but was intended to help you begin to think about your specific event's variables, what potential issues will arise and how you will address the crisis head on, all while doing so calmly and collectively.
Some of the issues you should start to document:
When is your event taking place? Is it hours, days, weeks or months from now?
How long is your event? Is it a single day, a weekend or longer?
How big is your event, meaning the scale of it? Is it a single location or multiple?
How many tickets have you sold to date?
Does your event include sponsorships, partnerships and vendors?
If so, what are their cancellation or refund policies? Schedule calls immediately to make sure they are part of the conversation.
Are guests calling you to learn whether the event is cancelled or not?
How many guests, sponsors or vendors are calling? And how?
Is the news or media contacting you?
Have you lost power, or expect to lose power?
Have you lost internet connectivity, phone lines, etc.?
Can the event be postponed?
The next section outlines some of the options that you'll be faced with after you collect some of the answers to the questions we outlined above. And we mentioned above, not all crisis or threatens of a crisis are black and white, so you may have to consider a combination of some of the scenarios below.
The Show Must Go On
For those events where you may be able to continue with the event, but possibly at a limited capacity, this option should be considered first.
Does the crisis effect a portion of the event?
Can the event go on, but you'll have to cut it short? Meaning it might have to start late or end early?
Do you have to close off a portion of the event space?
If so, do you have to refund a portion of the tickets?
If your ticket sales are still active, do you need to remove/hide any ticket levels?
This scenario typically covers the simple crisis where perhaps one of your caterers or performers did not show or you are short staffed or a part of the venue in no longer accessible due to local flooding, local power outages and the like. Nothing major, but the event will need to be modified for simple reasons. In this case, the performers are not the focus of the event.
In this case, the show can go on, but not fully accordioning to your event plan, you are most likely continuing to sell tickets, but perhaps you will need to cut back capacity or one of the ticket levels.
Since you'll need to communicate to your ticket holders and those that were interested in attending on some of the adjustments to the event you'll need to make, we recommend first updating your website, event page and your social media channels. Be as clear as you can so that you can hopefully answer everyone's questions to mitigate the number of phone calls. Depending on the level of changes, we also recommend updating your cancellation policy that includes some level of 100% guarantee so those that bought or are thinking about buying have less hesitation to request a refund or commit to purchase tickets. Since no matter what you do, make sure it's really easy to locate your phone number to call you and speak to one of your team members in case they want more information or discuss the refund policy. CellarPass provides you and the guests easy ways to get in touch with one another.
The Future Looks Bright
If the show cannot go on as planned, you are going to have to make the difficult decision to either cancel the event, or what we recommend, is to reschedule to a date in the near future. How you go about communicating this is key because you are not technically cancelling the event, you are offering an alternative date for the guests to attend. And since some guests plan their entire trip around your event, you'll need to handle this carefully and thoughtfully.
Have you communicated to guests that you are rescheduling the event?
Have you picked the new date yet?
Are you offering an incentive for people to reschedule their trip?
Should you need to reschedule your event, you'll want to first communicate to your ticket holders that you will be rescheduling the event and we recommend that you coordinate that new date as soon as possible, hopefully with the same communication that the event will not be held on the date everyone was expecting.
Be transparent as to the cause of the event being rescheduled, but not with too much detail that will cause hesitation to attend your proposed make-up date. Should this happen with your event, we recommend consulting with CellarPass on the easiest way to change the dates on the event and all the tickets sold.
The Future Looks Dim
For those events where you have determined that you will not hold the event at any level, nor would be able to reschedule it, it's time to get the word out that the event has been officially cancelled. And since you are essentially in a contract with every ticketholder, you need to refund every purchase, promptly. Do not wait days or weeks after committing to cancelling the event or this will create a massive customer service panic attack.
Create a communication plan and involve all of your staff.
Export a list of all Ticket buyers. You can do this several different ways.
Contact CellarPass on the best strategy to refund tickets and ways to easily communicate with ticketholders.
Communicating with Guests
Whether the event is going to continue at limited capacity, you have committed to rescheduling the event or you have to cancel altogether, when you communicate and how is key to making sure no feelings are hurt. The last thing you want is someone not getting the memo and showing up to a cancelled event- we've seen it and boy that's not a call anyone wants to deal with.
Creating a clear communication plan for all your employees to have readily available should include an official explanation as to why the event was cancelled and how and when attendees should expect to receive their refunds. Since some events can have thousands of attendees or parts of your event may be affected, we'll need to outline some of your communication options. The first place to start is with a ticketholder (or guest list) export from the CellarPass admin panel. This will help you better understand the scope of the guests that will be affected plus gives you their contact information.
If you have to shut down a portion of your event, we recommend using the CellarPass Communications Manager to send a Ticketholder communication. This will give you a quick list of all the guests that currently have a ticket issued in their name. The message should address all ticketholders, but clearly state the ticket levels that may be affected, or the parts of the event that may be modified.
If you plan on rescheduling the event, we recommend following the steps above, but make sure the message is clear that you will be happy to refund any ticketholder's purchase to those that cannot make it to the new date. Do not leave this information out as you will only create a customer service nightmare as they panic about possibly losing their money.
If you have determined that the event cannot be held as planned, nor rescheduled, you'll want to send a communication to all ticket holders. Be sure to state the cause of the event being cancelled and how guests will be automatically refunded by said date. Include how they can get a hold of you in case the refund never appears on their credit card statement.
You may be using CellarPass to execute the refunds, but since you may have several staff members assisting, we recommend exporting the event's guest list from CellarPass and importing it into a Google Sheet. This will allow all of your staff to view the progress of the refunds, track any inbound complaints or questions and quickly determine possible guests that are not responding by email. These are guests that will have to be called, and depending on when the event is taking place, these are the guests that we're always most concerned about. They may be travelling, or they may not have access to their email address anymore- essentially do not take it for granted that they read the email. You will need to attempt to contact these guests by phone and if you are lucky, most of your ticket purchases were 1's and 2's, but packs of 4's and 6's. Save time before all customer service staff members leave for the day to share any notes, feedback from ticket holders and discuss if there's any lessons learned or tweaks you need to make to your communications plan as you may need to update your website, post some more notices out on social media or make it known which ticketholders you are having difficult getting a hold of.
Properly Refunding Guests
Ugh, this was the last thing on your mind when you decided to put on amazing show, but based on whether your event is cancelled, rescheduled or running at limited capacity, you'll want to be well versed in how to process refunds through your ticketing platform.
Keep Them Coming Back for More
No matter which option you choose above, your event did not fully execute, so some expectations will need to be managed before and after the event. Depending on the outcome of your event, remember that these all your customers. Many are your loyal fans, club members, friends, family members and for some this may be their first visit. And like us, you'll want to keep them happy and coming back for another date in the future.
The best way to lure anyone back and give you a second chance is through an incentive. This could be something as simple as a promo code for a discount on your next event, free t-shirt, free souvenir or perhaps an upgrade to their existing tickets- you name it. The small (or large) gesture will go a long way and comes off much better when you offer it, than when they demand it. This offering should be part of your communication plan, but make sure the conditions of the offer are clear and are for a limited time as you want them to commit to their return visit sooner than later.
Have some comments or need some help?
We are here to assist you in any way we can.
Give us a call (855) 423-4448.