The Best Things to Do in Paso Robles Wine Country
Visiting the Paso Robles area for the first time and looking to experience some exciting activities? If you are an avid hiker, fine art connoisseur, foodie, or water sport lover, Paso Robles has a little of something for everyone in your group.
I absolutely love living and working in the Paso Robles wine country, but being a local, I also really appreciate all the other things that can you do here that every one in you group will enjoy. For the adventure-minded individual there's plenty of outdoor activities. For those that want a relaxing weekend in wine country, there's plenty of options to make sure you feel a 100x better than when you arrived.
And what makes this California Coast region so popular is what this unique region offers which is a bounty of things to do other than wine tasting. From local fishing holes, to foodies loving the downtown culinary scene. No doubt, Paso Robles offers a variety of activities for all interests that you'll want to add to your next Paso Robles wine country getaway.
Getting Here
What makes the Paso Robles region so popular is that it's super-easy to get to whether you live in the San Francisco Bay Area, Los Angeles or on the other side of the country. Being centrally located, it's about 3-4 hours from SF or LA, if you are travelling cross country, there's two airports you'll want to fly into and rent a car from there- Monterey or San Luis Obispo. Or make it a bigger adventure by flying into one of the major metros and experience the scenic California coast.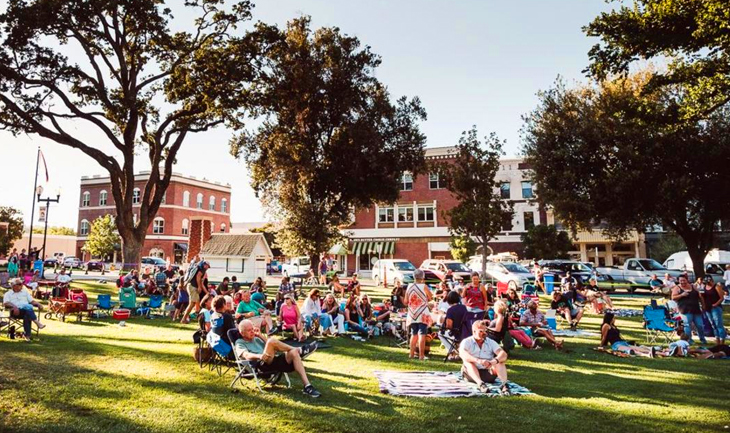 Downtown Paso Robles
Once a sleepy town, downtown Paso Robles has quickly become a vibrant scene in the last decade featuring a town square that is the centerpiece of restaurants, shops, galleries and tasting rooms.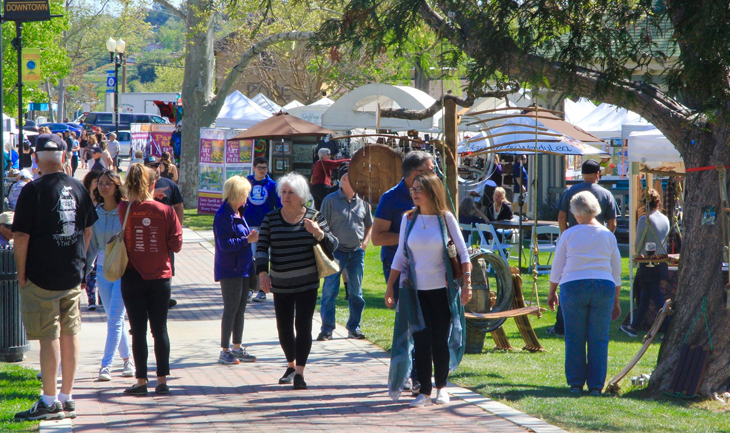 Paso Robles' Art in the Park
Paso Robles Art in the Park is the largest and highest quality art show in the County of San Luis Obispo, and one of the most popular along the Central Coast. Occurring twice a year, in April and October, the event attracts hundreds of artists and art connoisseurs. Located in Downtown City Park, this exciting event brings together craft workers and independent artists to showcase and sell their artwork.
Come discover Paso's creative side with over 130 booths, free admission and free parking.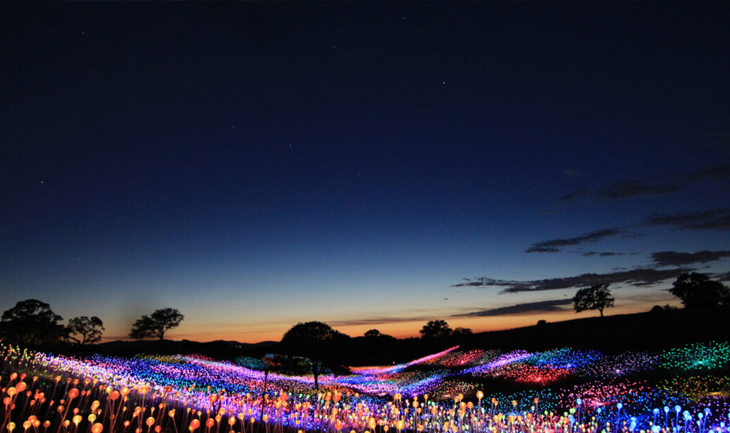 Sensorio Paso Robles
If you have not heard of the Sensorio Field of Lights, this one-of-a-kind experience is a must see if you are a fan of modern art and delicious wines. Featured in The New York Times as #6 in "50 Places to Visit in 2020," Light at Sensorio features two installations by internationally acclaimed artist Bruce Munro. Enjoy sipping wines while walking through shimmering fields with out of this world art installations scattered across the Paso Robles hillsides.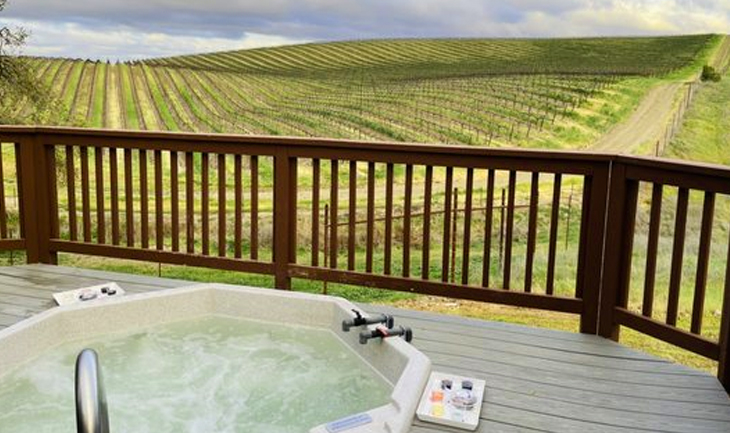 River Oaks Hot Springs in Paso Robles
River Oaks Hot Springs is perfect for winding down after a busy day tasting wine and sight-seeing. They offer massages, hot spring soaks, and even have wine and food pairing additions available. You can also pick from either outdoor or indoor hot springs. Nothing beats a relaxing soak overlooking the vineyards. If you want to first get in a round of golf, the River Oaks Hot Springs in conveniently located next to the River Oaks Golf course.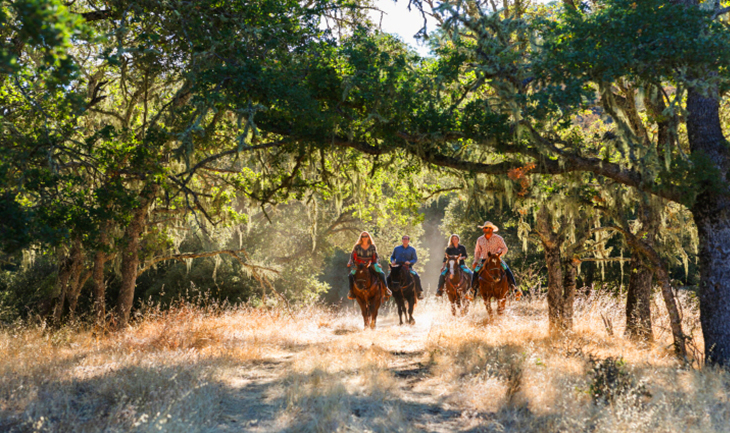 Cass Winery in Paso Robles
Horseback riding at Cass Winery is a one-of-a-kind experience and they offer rides for new and seasoned riders. Nothing beats a scenic view by horseback topped off with a wine tasting, overlooking golden rolling hills peppered with oak trees. Cass Winery also offers delicious food options on property for after the ride as well.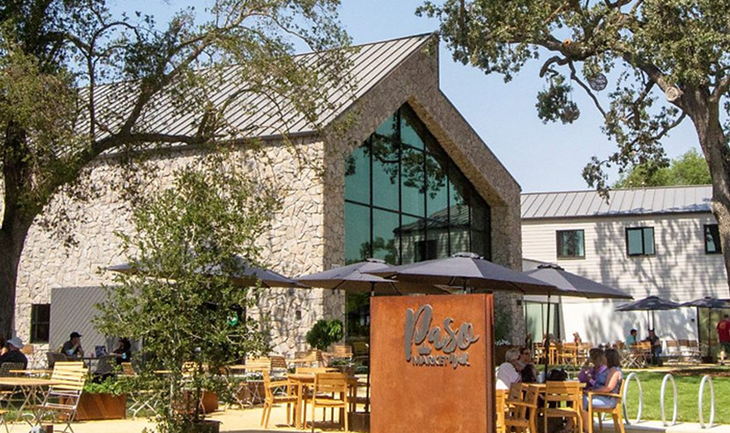 Paso Robles Market Walk
The Paso Market Walk is a fairly new addition to the Paso Robles scene. A great stop for a bite to eat and a quick wine tasting. They sport a number of family-owned businesses: bakeries, tasting rooms, and one of my favorite ramen shops in town, Momotaro Ramen. Stop on by and grab a bite to eat and relax on grounds with the family and soak up all that Paso Robles has to offer.
Local Insider's Tip
Book your experiences in advance. Paso Robles's temperate weather attracts a lot of visitors this time of year and it is best practice to book your experiences in advance to ensure you get the most out of your visit. If you have not booked your accommodations yet, checkout our hotel recommendations or Paso Robles Vacation Rentals.
Popular Paso Robles Wineries
Upcoming Events
All Regions
Subscribe to our Newsletter
Join our mailing list and be one of the first to know about upcoming local events.
Categories