The Best Things to Do in Napa Valley
I'm sharing with my personal top picks of things to do in Napa Valley besides wine tasting,
I was lucky enough to grow up in Napa Valley most of my childhood and adult life and will vouch that there's plenty of things to do other than wine tasting. Now if you have some kiddos on vacation with you I've included some ideas, but if you want a full list, you'll want to check out my blog that covers kid-friendly things to do in Napa Valley.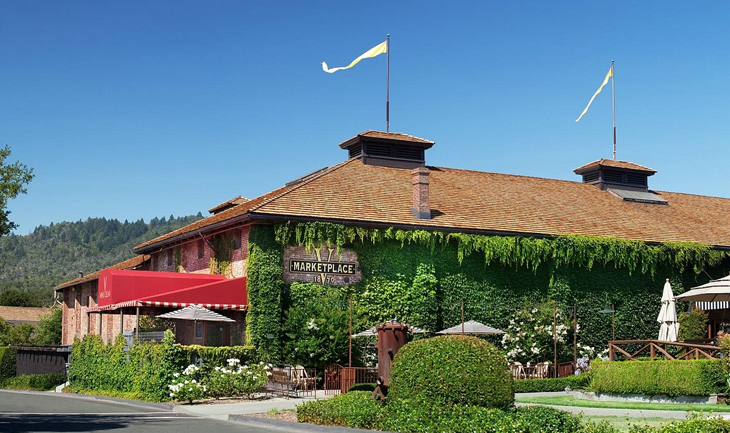 Vintage 1870 V Marketplace
Go for a Balloon Ride
As you may have read in some of my other blog articles, I had the ultimate pleasure of growing up in Yountville and one of my fondest memories is watching the hot air balloons take off from what is now known as Vintage 1870 – V Marketplace.
There are so many cool things about going up in a hot air balloon over Napa Valley, especially in the fall or spring months as the landscape provides a bounty of color; lots of yellow from the wild mustard in the spring and plenty of reds, yellows and reds as fall foliage celebrates the end of another harvest. What you will not want to forget is to bring your camera or smartphone as there will be plenty of opportunity for taking some amazing FOMO-ready photos.
Lucky for you these days, there several hot air balloon companies to choose from, but since space is limited, and they don't fly every day, this is one of the first reservations you are going to make. Be sure to dress in layers as you do start early in the AM and as the sun pops over the eastern mountains, you'll find yourself wanting to shed layers. Hot air balloon experiences are perfect for the adventure-minded individuals, not so much for those that have a fear of heights as elevations can vary based on wind direction.
What you can expect is some low passes over vineyards, occasionally passing over some of the stunning wineries at tasting rooms peppered throughout the mid to lower valley. Best to grab some pastries and coffee at Bouchon Bakery before you head out as you'll not want to go up with an empty stomach.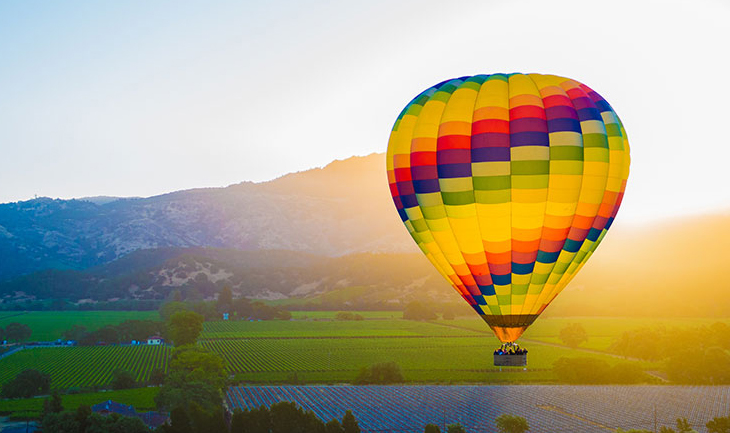 Balloons Over Napa Valley
No trip to Napa Valley would be considered complete without a hot air balloon ride!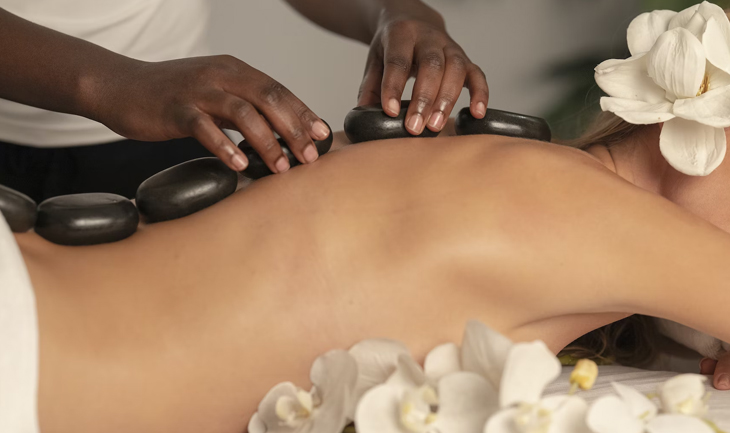 World-class Spa & Wellness is popular in Napa Valley
Spoil Yourself with Spa & Wellness
If Napa Valley didn't have tasting rooms, it would no doubt be in the top 10 in the world for number of world-class spa destinations. I have to admit that I didn't get into spas until my 30's, but once I did, I was hooked. Whether you get a day pass at one of the soaking pools in Calistoga or spoil yourself with a deep-tissue massage at one of the many day spas, you will no doubt start your vacation off right by booking one of these. Some of my favorites are Health Spa Napa Valley, Solage in Calistoga and Meadowood Resort located in St. Helena.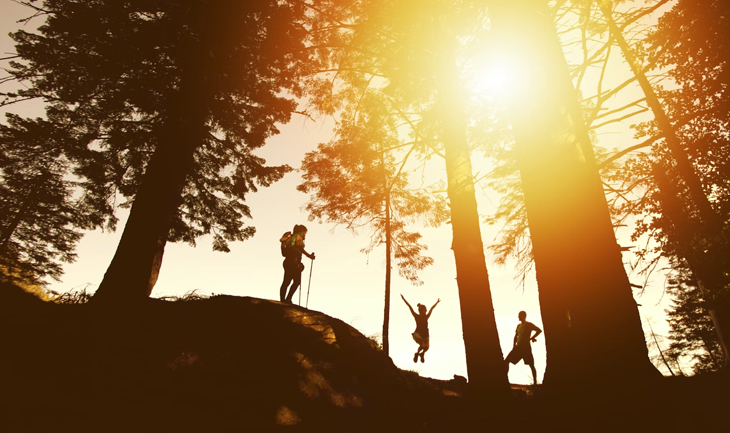 Napa Valley Offers Plenty of Hiking Trails to Explore
Napa Valley Hiking Trails
The Napa Valley is virtually surrounded by hills that top off at around 2000 feet with the crown jewel of Mount Saint Helena at the north end hitting 4,342 feet. There's no shortage of groomed hiking trails that can be accessed for those that want a simple hike to those that are seeking out an all-day adventure. There's literally dozens of parks and trails, but I'm going to highlight some of my local favorites.
Minutes from downtown Napa there's several state and local regional parks that are good for hiking or mountain biking. There's Alston Park that on the east side that offers some pretty easy hikes for all ages. On the west side, there's Skyline Wilderness Park. For those looking for a simple stroll with the kiddos (walking or on their bikes) I'm going to recommend Kennedy Park that's situated along the Napa River just south of downtown.
As you head north, venture out on the Silverado Trail as about halfway up, just past Yountville Crossroad, you'll find the Rector Dam hiking trail. The trailhead is not well marked, but you'll find it just before you run into the county maintenance yard which is across from Paraduxx winery.
As you head north, hop on Highway 29 and you'll find Bothe Napa Valley State Park about halfway between St. Helena and Calistoga. In the summer, they have a swimming pool, horseback riding and plenty of trails for all experience levels. For those that want to sneak in a wine tasting, you should have Schramsberg Vineyards on your list as it's not too far from this park and the is filled with great history about the surrounding area that will make your trip complete.
For those that want a challenge, then you are going to want to proceed up Highway 29, through Calistoga and on up to Robert Louis Stevenson State Park. Here you will start around 1600 feet and hike your way up to the top of Mount Saint Helena which is at 4100 feet. If you are lucky enough to be in area around a full moon and good weather, this is a great place to check out at night. We recommend venturing out a couple of hours before sunset to really enjoy the panoramic views of the entire Napa Valley, then stargaze into the wee-hours of the night which will make for some epic memories.
Whatever destination you choose to hike, please be careful, be prepared and never hike alone, these types of experiences are meant to be shared.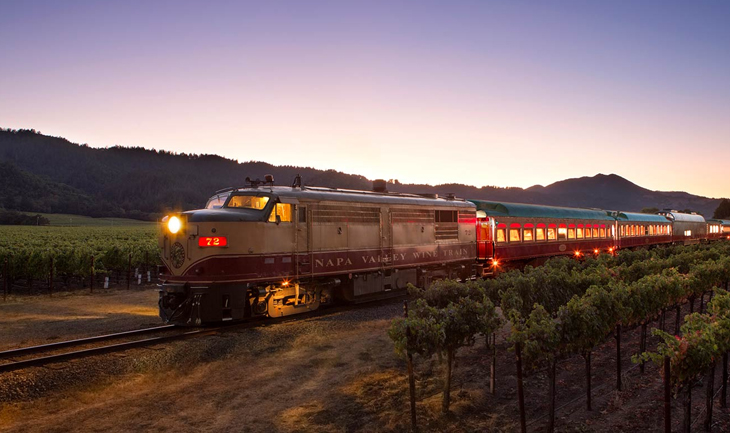 Napa Valley Wine Train
Riding the Napa Valley Wine Train
I remember the valley before the Napa Valley Wine Train was running and never really understood this experience until I had a chance to ride it myself. Starting from downtown Napa, the Napa Valley Wine Train offers plenty of different excursions that can suit just about any budget. I recommend the spring or fall months to get the best pictures. If you are booking the dinner, I would recommend the summer months so that you can enjoy the sunset from the comfort of their vintage passenger cars.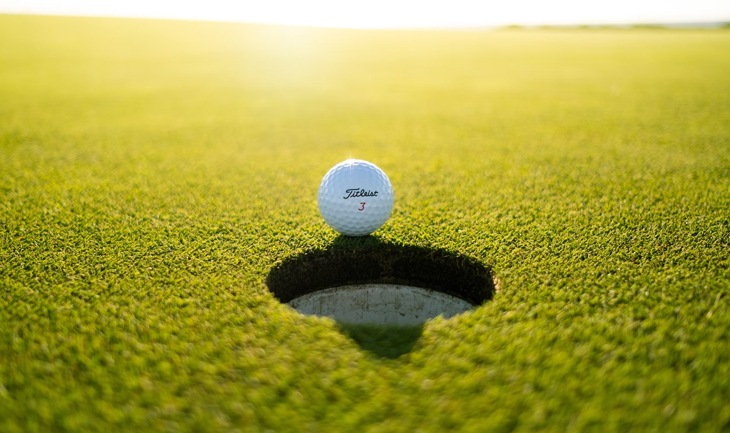 Play Golf in Napa Valley
Play a Round of Golf
When it comes to golf, there's a handful of courses that you spend the day chasing golf balls, from simple 9-hole courses to an 18-hole PGA championship course. If you are an average player like me, I enjoy getting an early start at the Napa Golf Course at Kennedy Park. It's not the prettiest of courses, but with the breezes coming off the Napa River, it will be one of the coolest in the valley. If you have some extra time in the day for a driving adventure, you can hit one of my favorites from my early days which is the Aetna Springs Golf Course in Pope Valley.
Stepping up to more pro-level courses, you'll want to check out Eagle Vines Golf Course, Chardonnay Golf Course or the legendary course at Silverado Country Club.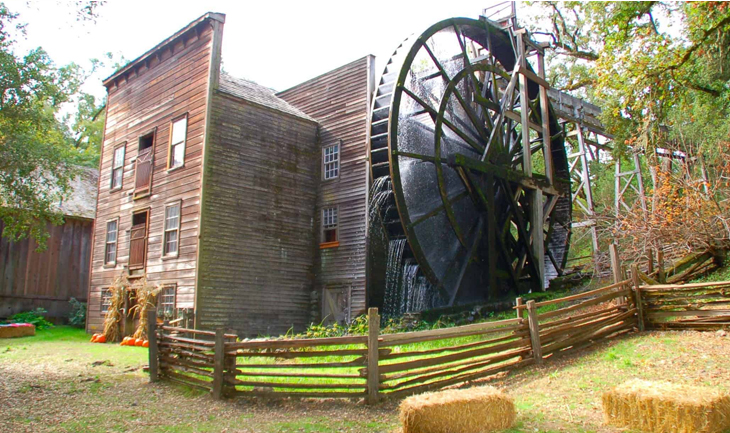 Bale Grist Mill
The Historic Bale Grist Mill
Anyone that grew up in Napa Valley have childhood memories from a school trip to the Historical Bale Grist Mill. This is the ultimate fall adventure as you get to learn the history and how it all works- plus they will have some fall-ready souvenirs to decorate the home upon your return which I know my wife adores.
Before you head north of St. Helena, you'll want first to stop by Sunshine Foods and make up a picnic basket as this will make for a perfect venue as it offers easy parking, shade (a rare commodity in the summer months) and of course plenty things to do for the kiddos for a couple of hours.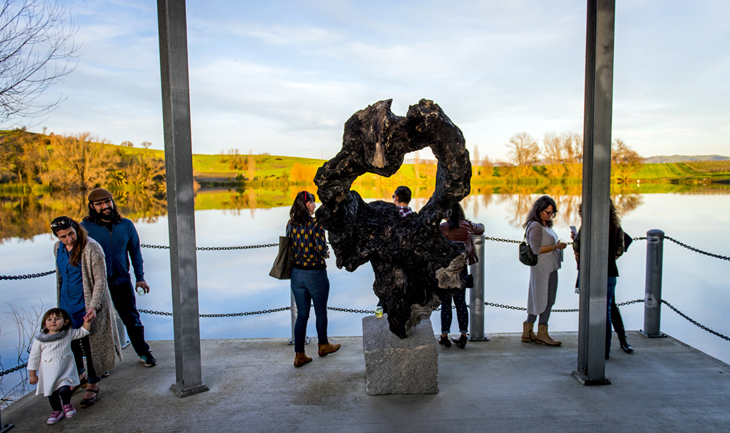 di Rosa Center for Contemporary Art
Museums That Showcase Napa's Rich History
No doubt the Napa Valley has plenty of history that you could spend an entire trip visiting every museum and historical landmark. There's the Veterans Museum in Yountville, the Robert Louis Stevenson Museum in St. Helena and you'll definitely appreciate the area's historical importance displayed at the Sharpsteen Museum in Calistoga.
Since we know you are coming to Napa Valley for the food and the wine, my highlights will include some that are both art galleries and tasting rooms, that way you can get a glass of wine while you sample the art work.
In Napa, I would recommend the di Rosa Center for Contemporary Art, Hess Persson Estates and the Jarvis Estate. Then as you travel north and into Yountville, I would add Jessup Cellars and the Napa Valley Museum which is located near Domaine Chandon. Of course there's plenty of other wineries and tasting rooms with their own art galleries and historical displays such as Mumm Napa, Acumen Wine Gallery, Vintner's Collective and Artesa Vineyards & Winery.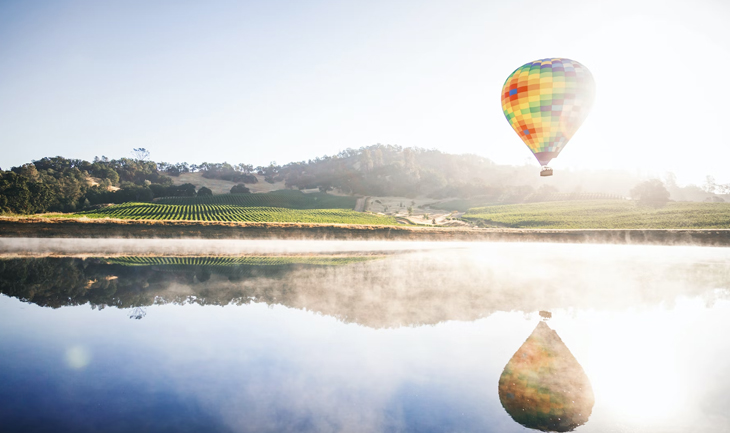 Napa Valley Offers Stunning Vistas Year Round
Photograph Napa Valley's Stunning Vistas
One of my favorites times of the year living in Napa Valley is fall. The end of October in Napa Valley not only celebrates the end of another grape harvest season, it's the ultimate time of the year to soak in the sights and smells of Napa Valley. I would recommend hopping on the Silverado Trail at Trancas Street to start your fall foliage tour. Head up towards Rutherford and take a right onto Highway 128 that will take you out towards Lake Hennessey. Caught at the perfect time with calm waters, this makes for some amazing photos, especially when the surrounding foliage reflects off the lake.
Then as you wrap around the lake and come upon a "Y" in the road, stay left and head on out towards Pope Valley. You'll travel through a winding canyon then your view will open up to a whole other valley most Napa Valley visitors don't travel to. You'll find more vineyards and mountains in red, yellow and orange hues as the leaves start to fall.
Travel a few more miles and you'll want to take a left at the Pope Valley Gas Station (there's no gas to be had here), but you'll want to stop and take pictures of some of the abandoned vehicles from the decades that are found here. This is where Model A's and Model T's would be prepared for the drive up and over the Angwin grade. You'll continue to make your way up and over the hill, where I would recommend you book a reservation for a wine tasting at CADE to take a break from your drive. From their tasting room you will have 180-degree views of the Napa Valley at 1600 feet- amazing!
After your tasting, you'll then start your descent into St. Helena, enjoying more panoramic views of the valley below. There's some safe parking spots to pull off, so be sure to do so. As you land on the bottom, you'll be at a 4-way stop located on the Silverado Trail. If you still have some energy left, turn right and head on up to Calistoga. If you are ready to call it a day, point your compass towards your hotel from here, but I'd recommend stopping in downtown St. Helena as the town does love to celebrate the harvest season with fairs, dinners and plenty of shopping.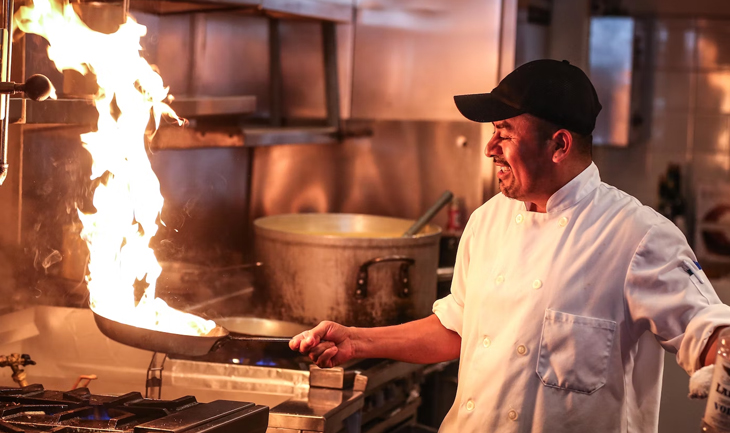 Become a Better Cook in Napa Valley
Up Your Culinary Game
If you've been to Napa Valley before, you know the restaurants deliver impeccable culinary delights. And the odds are high that the restaurant's chef attended the Culinary Institute of America, or what we locals refer to as the "CIA". You too can aspire to be a celebrity chef and see if you have what it takes by attending one of their culinary classes at their Napa location.
Silverado Cooking School is also another great venue near downtown Napa where they can create corporate team-building activities or just help you elevate your culinary skills.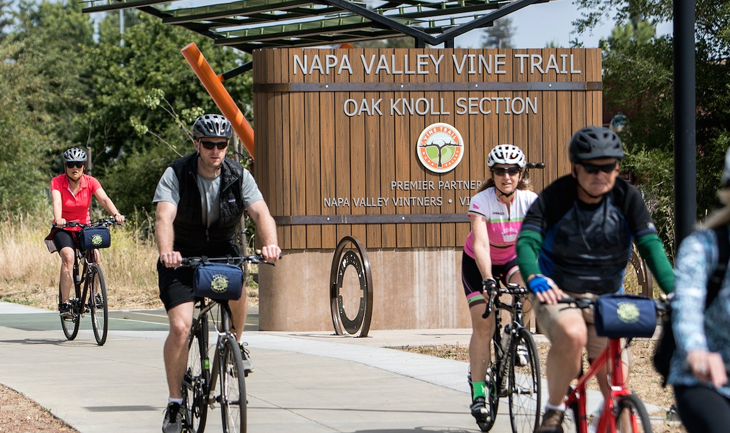 Napa Valley Vine Trail
Take a Bike Ride on the Napa Valley Vine Trail
Spring is a perfect time to get out of the car and take in the Napa Valley views by hopping on a local bike tour. You can either choose your own adventure and rent some bikes from a local bike shop or sign up for one of the popular bike tours and that will include some winery tours along the way. Either way you go, you'll most likely enjoy a stretch of the Napa Valley Vine Trail that starts in Napa and offers safe bike-friendly path from Napa's Trancas Street on up to Yountville. It's nice and flat and perfect for groups of all ages.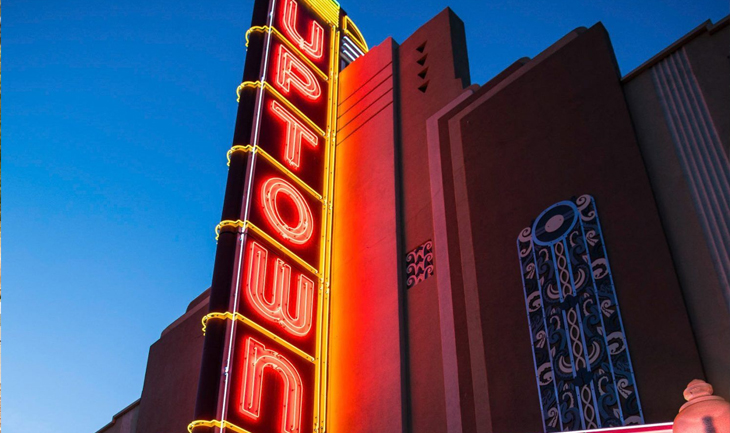 Live Performances in Napa Valley
Attend a Live Performance or Concert
The summer months in Napa Valley come alive and the area provides some local hot spots to catch live music and performances. The Lincoln Theater in Yountville offers a wide range of performances throughout the year, while the Blue Note Napa in downtown Napa offers a great opportunity to enjoy dinner and a live show.
If you are visiting in the summer months, you'll want to plan ahead as there's more options for you. I really enjoyed checking out Steve Miller a couple of summers ago at the Oxbow RiverStage where downtown Napa becomes the stage's backdrop. The Uptown theater also offers an indoor venue that has been the venue of plenty of well-known artists and events, so be sure to check their calendar often. Now if you are going to be attending BottleRock Napa Valley, you will want to not only buy tickets as quickly as possible, but you are going to want to book your hotel stay as many of the areas hotels sellout pretty quickly once the dates have been announced.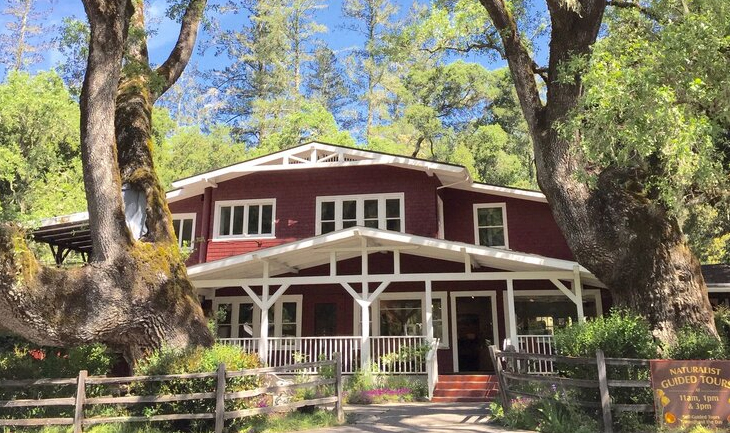 Live Performances in Napa Valley
Spend the Day at The Petrified Forest

Technically located in Sonoma County, but a short drive from downtown Calistoga is another favorite past time of my youth was hanging out The Petrified Forest. If you (or your kiddos) are really into Jurassic Park, this will be the highlight of your trip to Napa. This is a perfect getaway when it's hot out as the shady park offers some simple hiking trails around the property where you can touch Sequoia trees from the Pliocene Epoch that are 3.4 million years old- wow! The gift shop has plenty of samples of petrified wood, fossils, jewelry, crystals, books and more.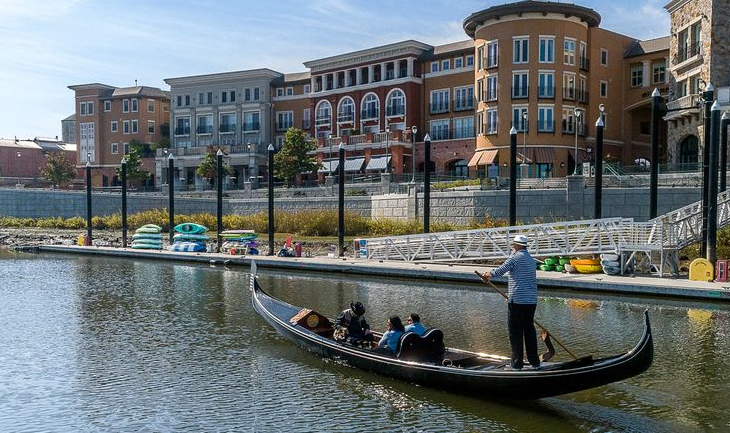 Gondola Rides on the Napa River
Spend the Afternoon on the Napa River
I have to admit that the Napa River was once a place where we used to water ski "al natural" in our youth, well because no one could really ever see you. Flash forward a couple of decades and I must admit that it would take a lot more beers to have the courage to do it today. Well first of all downtown Napa used to be a ghost town only until a few years ago. Constant flooding would wipe out one business after another and never get replaced. And until the Army Corp of Engineers, Napa County and the Napa Downtown merchants got the flooding issue finally solved, it would remain a dormant mess.
Today, it's the "in" place to be if you own a tasting room as new hotels have sprung up, trendy shopping outlets have opened and the culinary scene is ideal for any foodie. Why do I start with this backstory?
Well, one of my old friends Sean O'Malley has turned in his jet ski and Speedo and launched his own gondola boat tour company called Napa Valley Gondola. That's right, you can now take a tour of the scenic and tranquil Napa River with all its natural wildlife, sans the occasional skinny skier of yester year- I promise. Now if you are an avid kayaker, then the alternative is to connect with Enjoy Napa Valley as they offer kayak and paddleboard rentals, or upgrade to their Napa River History Tour.
Local Insider's Tip
In the spring through summer months, the temperature change from the morning to the late afternoon can easily fluctuate 40 - 50 degrees. It's why we always recommend that you dress in layers, wearing a light sweater in the morning or vest and a comfortable golf shirt underneath if you plan on going wine tasting.
Since the sun is strong and you'll be outdoors, be sure to apply sunscreen and above all else, hydrate by drinking lots of water throughout the day. And contrary to popular believe, beer is not a substitute for drinking water. Enjoy!
Featured Napa Valley Wineries
Subscribe to our Newsletter
Join our mailing list and be one of the first to know about upcoming local events.