The Best Sonoma County Pinot Noirs
If you can visit Sonoma County during harvest season (we call it crush season) then you'll be grinning ear to ear as the aromas of harvest in full swing is hypnotic.
Pinot Noir is one of my favorite bottles of wine because of its versatility. I affectionally refer to it as "Pinot" and it's my go-to "SUV" of wines. The Vineyard Vixen refers it to the "black dress" of wines. Why? Because you can have a light-bodied Pinot Noir from the Sonoma Coast to pair with lunch or go for a big-and-bold Pinot from the Russian River Valley for a formal dinner with friends.
My choice are the big Pinots from Sonoma County's famed Russian River Valley. Located about 50 miles north of San Francisco, this grape-growing region has always been a choice for farmers, with its rich soils, generous growing season and warm days and cool evenings. The heat over the long summer months produces thick skins that deliver the deep colors I love to see in a Pinot.
But that's not all that this region provides, access to the majestic and rugged California coast provides a blanket of fog in the summer and fall, providing some natural air conditioning when temps go into triple digits.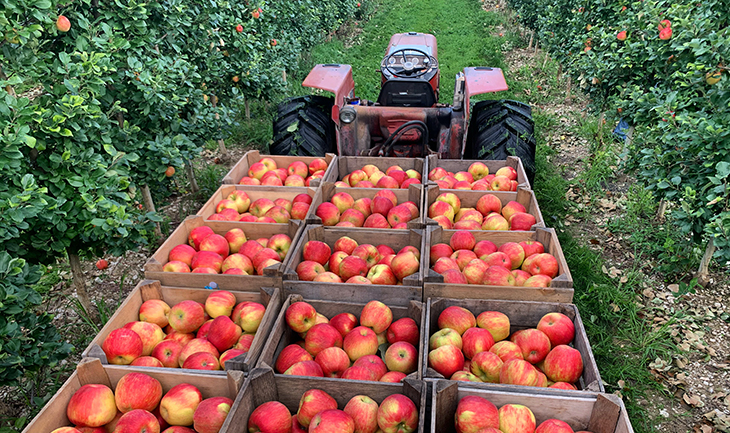 Sebastopol Apple Orchard
The region doesn't stop there as Sebastopol located at the south end of the AVA is a mecca for apple orchards. People flock here from hundreds of miles away in the Fall to get their provisions for Apple pies, tarts and everything in-between for the upcoming holiday season. The cooler days in the late Fall definitely scream hot apple cider- yum!
If you love to seek out and cut your own Christmas tree, then this is also going to be one of your favorite regions. Many locals head out towards Sebastopol and Occidental to pick out their tree around Thanksgiving time, mark it and return in December to haul their tree home. This is a perfect outing for the family!
Sonoma County Pinot Noirs
Now for the good stuff, my favorite picks for Sonoma County Pinot Noir. If you love the big "juice bombs" Pinot Noirs then you'll be in luck!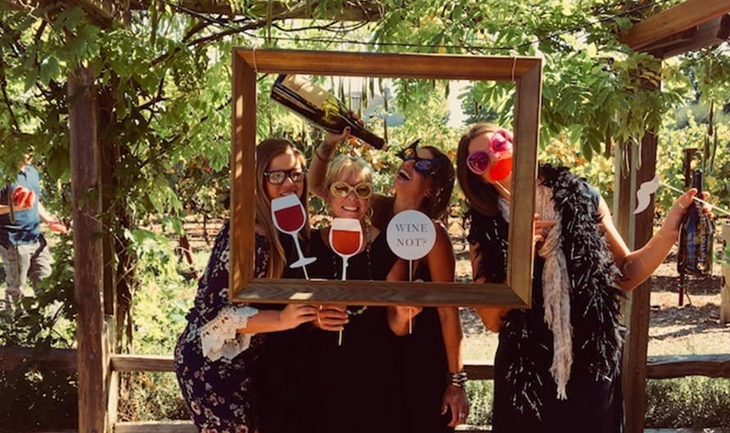 Furthermore Winery in Sebastopol
Furthermore Wines
One of my top picks for Sonoma County Pinot Noirs is Furthermore Wines (the winery) in Sebastopol. If you find yourself in downtown Healdsburg, they also have a tasting room there that you can pop into.
I love going to the winery location because it's rustic, simple and surrounded by vineyards that make this place special. Now, here's where it gets really good. Plan on bringing a picnic with you to spread out and soak in all the glory of the Russian River Valley and most importantly with a bottle of Furthermore wine. That's the ultimate trifecta in my book.
In the summer months, they often host live music on the weekends, so be sure to check out their website for more details.
Be sure to book ahead as space is limited.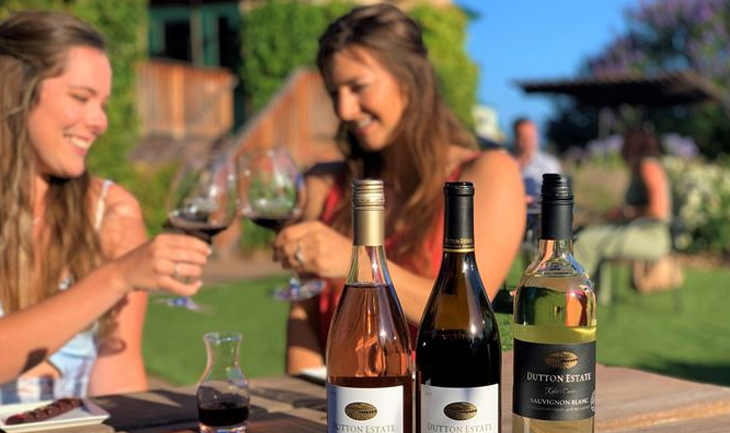 Dutton Estate Winery
Dutton Estate Winery
Surrounded by 20 acres of their estate vineyards, Dutton Estate Winery is magic hidden gem in Sonoma County. Their tasting room is an old farm house, which is perfect for the winter months, but come Spring, Summer and early Fall seasons, you've got to book one of their patio tastings. Their picnic tables offer the perfect landing pad for your wine tasting. What makes it better is upgrading to one of their food and wine pairing tasting options.
In the Fall, definitely book their Halloween Candy & Wine Pairing. It's a great way to ring in the season, but also a creative way to show how different candies go with the different wines. Then try it at home with friends on Halloween night with all that extra candy!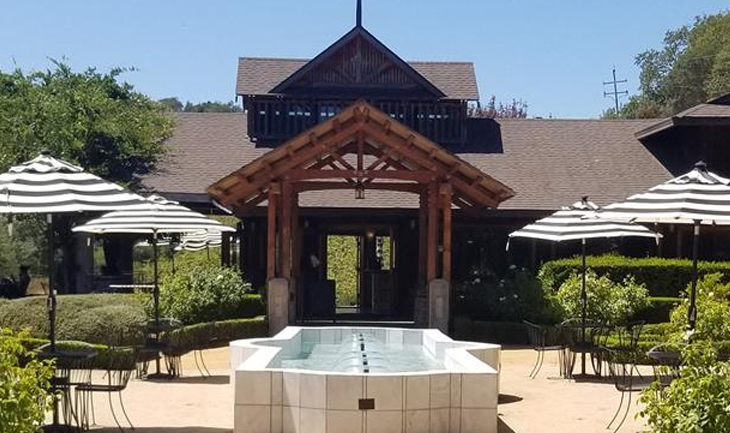 Matrix Winery in Healdsburg
Matrix Winery
This winery makes it on many of my "go to" lists these days. It's probably because it's hard to find a wine in their portfolio that I don't like! Their Cabernets- yum, their Zinfandels- yum! When it comes to their Pinot Noirs- fire!
Their laid-back atmosphere and super-friendly staff rounds out the list of why you should add Matrix Winery to your Sonoma County Pinot Noir itinerary.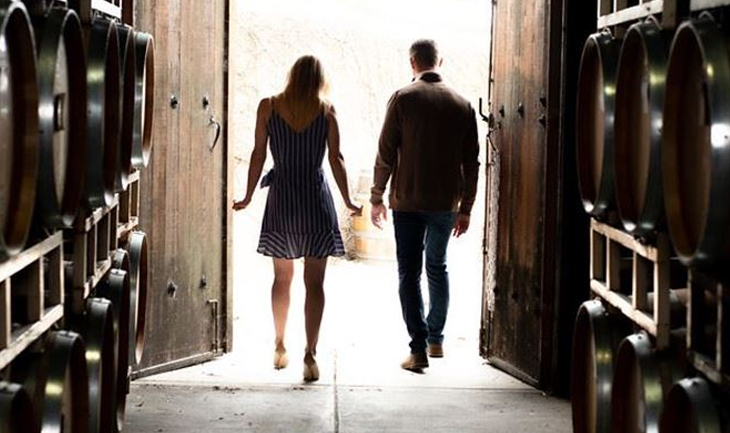 Schug Winery
Schug Winery
The founder of Schug Winery, Walter Schug came to the United States as the founding winemaker for Joseph Phelps that put Napa Valley wines on the map in the 1970's.
This estate is rich in not just Sonoma County history, most notably Schug Winery was one of the early pioneers to plant Pinot Noir in the region. What makes this even more cool is that Schug's history goes back 100 years in Germany's Rheingau region which was originally planted in the 12th century! Talk about roots!
Today, Walter's children are carrying on the family's rich winemaking history, focusing mainly on red wines. Being a Pinot fan myself, I recommend grabbing a couple of bottles to take home with you.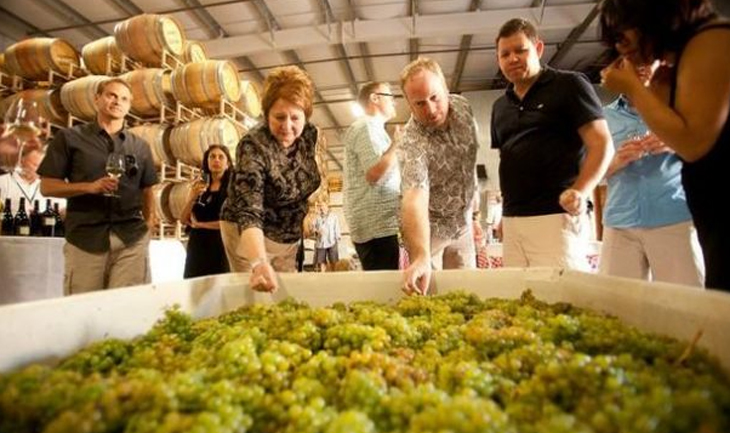 Tin Barn Vineyards
Tin Barn Vineyards
Okay, at first, I found it really kind of odd to be heading towards to local airport to go winetasting, driving past some warehouses and boom, there's Tin Barn Vineyards. Simple, rustic and focused on their wines shows the moment you walk through the door. The tasting room also serves as the barrel room, the fermentation room and the office space. Talk about being immersed in your job.
If you can be here during harvest season (we call it crush season) then you'll be grinning ear to ear as the aromas of harvest in full swing is hypnotic. Their Pinot Noir has been on my "go-to" list for years as it's been consistently good!
Space is limited, so be sure to book a reservation.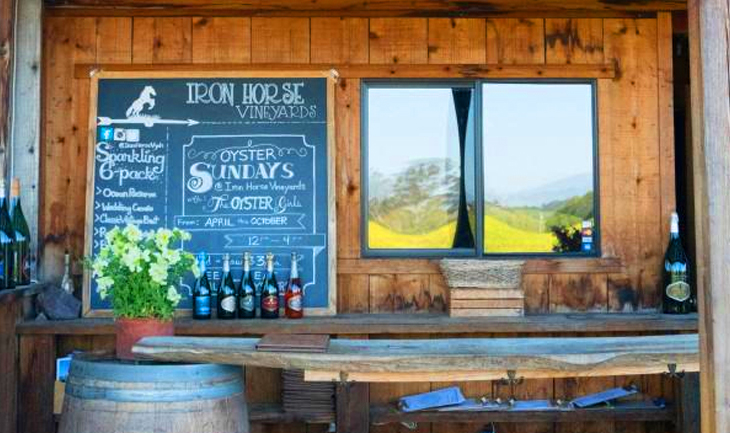 Iron Horse Vineyards
Iron Horse Vineyards
If you are looking for a winery that produces a wide variety of Pinot Noirs, then definitely add Iron Horse Vineyards to your Sonoma County itinerary. Yep, another rustic locale on my "go to" list that delivers something for everyone, including sparkling wines which are some of my wife's favorites.
It's a bit of a trek to get to this tasting room, especially in the winter time, the drive will be worth it. The vistas from their "tasting room" go on for miles. The surrounding vineyards might have produced the wine you are holding in your glass!
Space is limited
Insider's Travel Tip
When touring through Sonoma County, be sure to dress in layers during the peak summer months (June - October). The mornings can range from the lower 50's with highs in the 90's, sometimes sneaking over into triple digits. You'll find yourself shedding layers as the day progresses.
Subscribe to our Newsletter
Join our mailing list and be one of the first to know about upcoming local events.
Categories