The 10 Best Napa Valley Wineries to Visit
Choices. Choices. Choices. Find out the best wineries to visit while you are in Napa Valley AND the (highly sought after) locals' pocket list of favorite wineries in Napa Valley.
I'm lucky enough to call the beautiful Napa Valley where I call home. I have been fortunate to live in the Napa Valley for 13 glorious years and I don't imagine I will ever leave, but I no doubt really enjoy my getaways to other wine regions which I share with you. With Napa Valley's dramatic landscapes, hundreds of wineries to visit, dozens of world-class restaurants, fabulous accommodations and near-perfect weather makes it to the top most people's bucket lists. Because of all of these attractive traits of the Napa Valley, over 5 million people visit the Napa area every year.
According to the Wine Institute (a great resource if you are a facts and figures geek), "the Napa Valley American Viticulture Area (AVA) covers 225,300 acres of land." Can you believe that Napa Valley provides a home to 400+ wineries? Well, it's true and every year, the number of wineries somehow seems to grow. And with so many choices of wineries in such a relatively small area (Napa Valley is roughly 20 miles long and 6 miles wide), it seems like there are more wineries than humans sometimes! What can be hypnotic while driving along Highway 29 or Silverado Trail is the well-manicured row after row of vines are picture perfect and are a large part of what makes our unique Napa Valley so special.
Be sure to check out the locals' pocket list that follow our Top 10 Best Wineries to Visit in Napa Valley. While the Top 10 list include excellent choices, the locals pocket list will include additional and equally as lovely wineries that may be new to you and fun to check out. Happy tasting and enjoy your time in Napa Valley!
10. Round Pond Estate Winery is located in Rutherford (about half way up the valley) lives and breathes by the philosophy that the best wines are born in the vineyard. Made from select blocks of their best estate fruit, Round Pond wines embody the essence of a terroir-inspired, Californian winemaking tradition. The palm tree-lined driveway leads you to the elegant and flirtatious tasting room at Round Pond Estate. With low production the downstairs is where most of the wine production takes place, while the tastings are held upstairs.
On the second floor, there is a sweeping view and breezy patio that overlooks acres and acres of estate vines in the heart of Napa Valley which is also referred to as the Rutherford Bench. Some of the best and most expensive Cabernets in the world come from this subregion. There are many experiences to choose from at Round Pond – the Wine Bar Tasting ($40), the Estate Tasting ($65), the Cabernet Collectors Tasting ($75), the Ultimate Gravel Series Tasting ($125), Vino & olio Experience ($85) and the Il Pranzo ($150). Most of the tastings include small bites, but the Il Pranzo is an actual multi-course lunch paired with Round Pond wines. Whatever you choose to do at Round Pond, you will love the experience from start to finish and are likely to be seen (as you depart) carrying orange bags filled with goodies. Expect to be there anywhere from an hour to three hours depending on your selected winetasting experience. Reservations are required.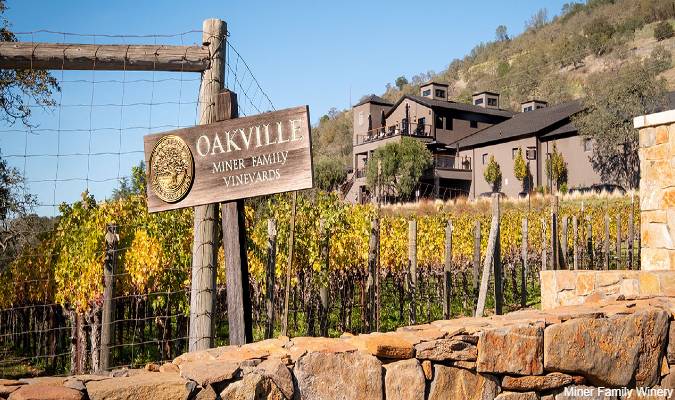 9. Miner Family Winery (Oakville) is a gem of a winery. Owner Dave Miner is a family man committed to the community, the land and producing a wide range of irresistible wines. What's cool about Miner is that all of the grapes are sourced from pristine sources where the Miner Family Winery team can be hands on in farming practices. The result is a large range of varietals that all possess a delicate balance and the touch of a true craftsman. Visiting the winery is an absolute joy. With incredible sweeping views of the expansive foothills above Oakville, it is very evident that you are in the heart of the Napa Valley wine country. A visit will include a tour of their production facility, the caves carved into the hillside and the multi-level tasting room. Dave is an avid guitar collector and many of his one-of-a-kind guitars are on display at the winery. You can experience a Walk-in Tasting at the Wine Bar ($35), a Public Tour & Tasting ($50), Private Tour & Tasting ($60), the Oracle Blending Seminar ($100) or the Sommelier Experience ($100). Don't miss Miner Family Winery. 60 minutes to 120 minutes. Reservations recommended.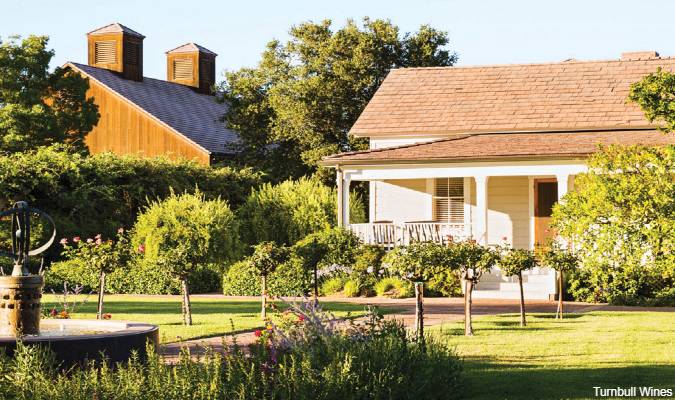 8. Turnbull Wines (Oakville) has become one of my favorite wineries in Napa Valley recently. Over the years, the team behind the eccentric Patrick O'Dell who has developed a phenomenal wine with texture and a symphony of flavor profiles. The rustic and refined tasting room at Turnbull has undergone a tremendous transformation as well, with elegant finishes and a private area for wine club members. Mr. O' Dell also happens to be a prolific collector of photography and has one of the most comprehensive collections I have ever seen, hanging on the walls of the simple, but elegant tasting room. I was stunned to see original photographs by Berenice Abbott, Ansel Adams, Margaret Bourke White, Dorothea Lange, Edward Weston, Herb Ritts and more. $40 per person. 60-90 minutes. Reservations recommended.
7. Chimney Rock Winery is one of the reasons why Napa Valley has gained so much notoriety in the world as their 1973 Cabernet Sauvignon swept the now-famous 1976 Paris tasting. A commitment to sustainable farming is first and foremost, and then comes the vines, the fruit, production, the community, staff and finally the wine. Guess what? The wines are some of the best in the Napa Valley. Not a surprise. When you respect the land, it gives back tenfold. Not many wineries can say that they are Green certified, 100% solar powered, recycled water for vineyard irrigation used for over a decade, integrated pest management, chemical approach to pest management that minimizes environmental and health risks and the use of cover crops planted between vineyard rows to help improve soil health.
The moment you notice Chimney Rock from Silverado Trail and turn onto their elegant, long driveway, it's almost like a stairway to heaven. And as you walk through the front door and into the inner patio, that's what heaven looks like- of course a glass of Cabernet from their Stags Leap District estate vineyards (which you are surrounded by) is icing on the cake! There are currently six experiences you can choose from at Chimney Rock Winery. My favorite is the Vineyard Odyssey Tour & Tasting ($125) where you get to enjoy an exclusive, guided tour (that includes wine sampling of some of our iconic Cabernet Sauvignon wines in the very vineyards they are grown), a seated tasting (back at the estate) of their single vineyard wines paired elegantly with locally-sourced artisan cheeses. 60- 120 minutes. Reservations are required.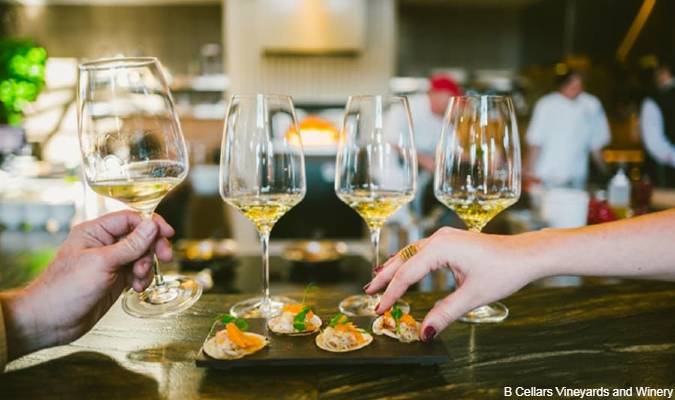 6. B Cellars Vineyards and Winery hands down has one of the best wine and food programs in Napa Valley. A visit to the winery must include either the Expedition ($185) or the Heritage ($185). Don't be alarmed with the prices, both experiences are worth the hefty tasting fees and will not disappoint. The Expedition includes an in-depth tour of the vineyards, garden, hen house (yes hen house) and purposefully-planted ornamentals. Upon return to the tasting room, the lessons learned out on the tour of the estate are brought to life in the culinary pairing, which enhances the perfectly-paired reserve wines which are all blends that you'll want to fill your cellar with. The Heritage is designed for Cab lovers – specifically those of the famed Beckstoffer Vineyards. Taste through their ultra-small and rare production craft wines, that are rarely available to the general public. If you aren't looking to spend so much, there are other tastings and tours that will delight. I got so distracted telling you about the experiences that I forgot to mention the state-of-the-art tasting room – it's definitely an exhibition of comfort and style. 60-120 minutes. Reservations are required.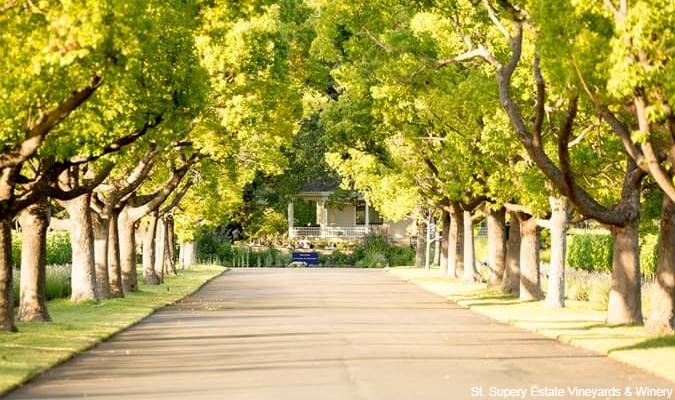 5. St. Super Estate Vineyards & Winery (Rutherford) is the perfect union between French chateau tradition and Napa Valley terroir which makes sense since they are owned by the same people as the Chanel luxury handbag icon. The estate grounds are meticulously manicured and are home to many old-growth trees and beautifully-restored historical buildings dating back to the 1800's. One cannot help but forget about the stress of everyday life, as they explore the beauty that is St. Supery. Summer in Napa Valley can rise to 100+ degrees and a glass of chilled St. Supery Estate Rosé or Estate Sauvignon Blanc is just the right kind of wine to sip by the pool. Don't worry if you are a red wine lover -there are several perfectly balanced Red Blends and Cabs that are sure to delight. And it's good to know that all of their farming practices are completely sustainable and certified Napa Green. You won't have any trouble finding an experience at St. Supery that suits you as there are 6+ options to choose from. I recommend the Vino & Veggies Experience ($65 per person). This includes a tour of our winery, a tasting of four estate wines and vegetarian small bites featuring farm-to-table produce from their culinary garden and Dollarhide Estate Ranch. After your tasting, you can hang out in the gardens and play bocce ball. I recommend purchasing a couple of ice-cold bottles of their Sauvignon Blanc before you head out for the courts. Prices range from $35 to $70. 60-120 minutes. Reservations recommended.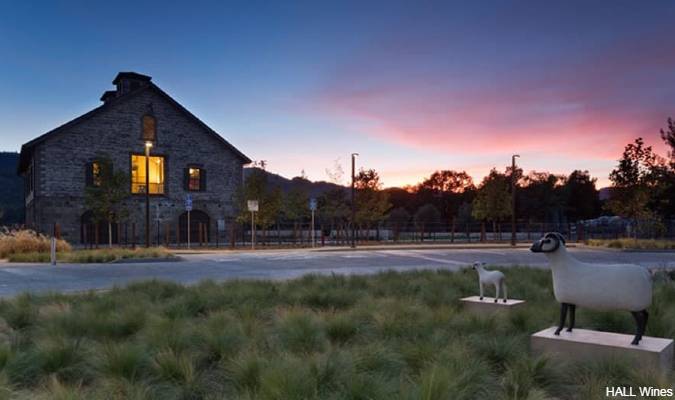 4. HALL Wines (St. Helena) has something for everyone. With style and intelligence, the Hall Family lead the winery team and together, everything about HALL exudes quality and careful precision. The winery is contemporary and peppered with an exquisite art collection, the historical Bergfeld Building and thriving botanical gardens. The wines range in varietal, with the star being their award-winning Reserve and Estate Cabernets. I have purchased many of them for my wine cellar as you too will find it hard to resist. The glass tasting room is elevated above the vineyards and full of natural light, giving you sweeping views of the Mayacamas Mountains on the west side of Napa Valley. In the Winter thru early Spring, book the latest available reservation and enjoy the sunset over the vineyards. Choose from a wide variety of tastings or tours & tastings, ranging in price from $50 - $225 per person. I'd go for a tasting that includes a tour if you have time as it gives you a chance to see parts of the estate, general visitors don't get to experience. 60-120 minutes. Reservations are required..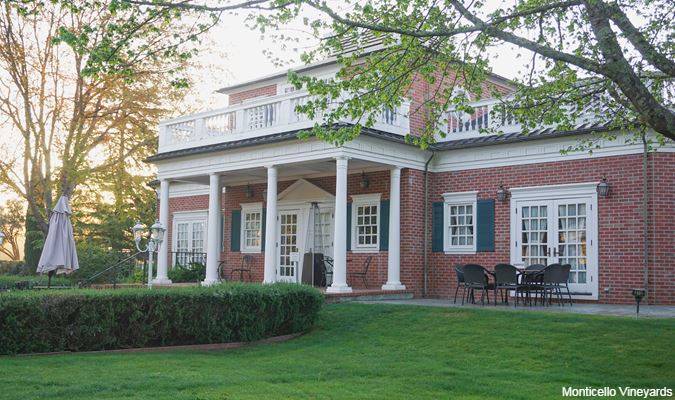 3. Monticello Vineyards (Oak Knoll District) has been family owned and operated for five decades. Since 1970, the Corley Family have dedicated themselves to building a legacy in the Napa Valley wine culture. In their owns words, "Relationships are the bonds that unite us. We value authentic and reliable relationships among ourselves, our customers, and in our community." Monticello has earned the undying respect of locals and guests and is cherished by all. Chris Corley, the winemaker is a genius with blessed hands. His wines embody the essence of the Oak Knoll District in the most refined and delicate way. Visit the winery and tour the historic grounds, while you sip on award-winning wines. Missing Monticello Vineyards would mean missing a huge chunk of Napa Valley history that make it what it is today. And what you'll notice upon your arrival onto the estate is the striking resemblance of the nation's 3rd president, Thomas Jefferson's own residence back in Virginia haply named "Monticello" is where most of the private tastings take place. This is just one way that the Corley family plays homage to Jefferson's early roots (over 250 years ago) when he built his own winery back in the early 1800's. At Monticello Vineyards you can choose from a variety of tastings - Monticello vineyards ($35), Corley Reserves ($45), Corley Cabernet Sauvignon ($55), Library Tasting ($55) and Relax Garden ($65) Optional artisanal cheese plate available - $25 serves two people. 60-90 minutes. Reservations recommended.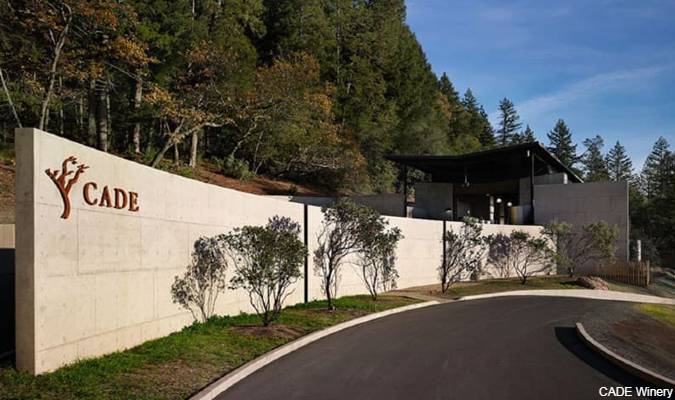 2. CADE Winery (Angwin) sits above the valley on top of Howell Mountain at 1800 feet. You may not have heard of Angwin or the Howell Mountain area of Napa Valley, but once you've experienced the region's wines (and vistas), you'll find yourself coming back over and over. Boasting spectacular views found nowhere else, CADE is a well-known favorite by locals and visitors alike. The wines are delicious and sexy, which is reflected in the modern and minimalist décor of the tasting room. There nothing better than sitting out on the lookout wall at CADE, with a glass of 2015 CADE Reserve Cabernet Sauvignon and dreamy view. While at CADE, you can enjoy the Estate Tour & Tasting ($80) or the Library Tasting ($80) over at the newly acquired 13th Vineyard. 90-120 minutes. Reservations required.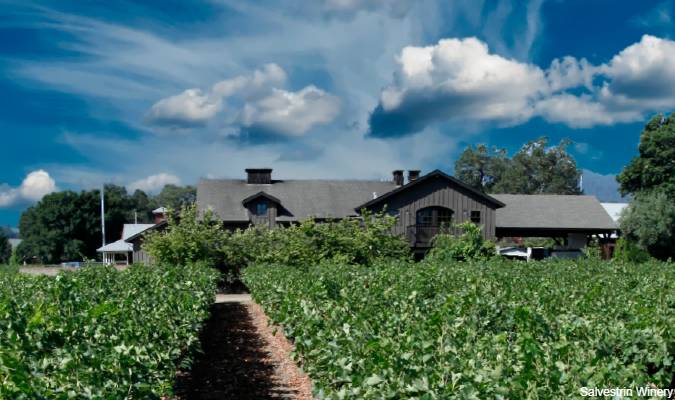 1. Salvestrin Winery (St. Helena) has been family owned and operated for 86 years. That's no small feat in a world where change seems to happen overnight in Napa Valley these days. You've probably driven by Salvestrin a dozen times. Tucked away in charming St. Helena just off of Highway 29, Salvestrin is a perfect oasis from the stream of busy tasters and town folk. As you arrive on the property, you can almost imagine the property way back when as the original farmhouse is their own estate Bed & Breakfast. Continue down the gravel driveway and you'll find yourself at the tasting room, where you will feel welcomed with a warm reception. All the wine educators are locals (Eddie is awesome) and very informative and passionate about Salvestrin's rich heritage and artisan winemaking. You will be seated on the patio or upstairs (weather permitting) and will be rewarded with awesome views of the estate vines. Salvestrin's small-batch production is led by a talented winemaker who sources only the most pristine fruit producing an extraordinary portfolio of wines. Salvestrin was recently voted one of Napa Valley's Top 10 Small Undiscovered Wineries by Legendary Napa Valley. "If you are looking for an intimate, off the grid, winery experience, then look no further." The Harvest Tasting is $35 and the Crane Estate Tasting is $55. Expect to be there between 60 and 90 minutes. Reservations are required.
I hope you get a chance to enjoy many of these delightful Napa Valley wineries and tasting rooms like I did discovering and sharing them with you. Just to plan ahead as many of these are small, hidden treasures will limited space, and rightly so as you'll be absolutely tickled you did.
Subscribe to our Newsletter
Join our mailing list and be one of the first to know about upcoming local events.
Categories