The Vineyard Vixen's Favorite Things: Holiday Edit
Gatherings with friends and family celebrating the holidays absolutely tops the list of my favorite things.
The holidays are truly the most wonderful time of the year where I get to revel in all of my favorite things: friends, family, ridiculously fun and festive fashion, getting cozy by a glowing fire, holiday décor, entertaining and of course curating perfect food and wine pairings to enhance every moment.
Sure, 2020 has thrown many curve balls and my usual repertoire of attending holiday events and hosting lavish cocktail parties are definitely out this year… or are they? Nope, not for this Vixen. I dearly love entertaining during the holidays and I have decided the events and all the festive fun will be of our own making and on a smaller scale for our family.
We'll be carrying on our annual tradition of watching the Macy's parade over a breakfast of pop overs and homemade hot chocolates on Thanksgiving morning. Then into the great outdoors for a picnic with hot apple cider and delicious treats to warm our family after we find the perfect Christmas tree. We'll regroup with a retro 60's themed cocktail party for our family of three, probably already planning our après ski-themed New Year's Eve celebration which we'll make our own snow if nature doesn't deliver.
I know I am not alone with my zest for social soirees. So, if you an are endless entertainer or someone who loves all things holiday, then I courage you to read on. In this edition, I share some fabulous experiences to fill your holiday season with magic as well as special offers for holiday gifts for the wine lover on your list.
Where Rustic Meets Elegance. Iron Horse Vineyards
A pioneering estate winery founded in 1976, is the home of California's most celebrated handcrafted Sparkling Wines. While experiencing the pleasure of visiting our tasting room in Green Valley of the Russian River Valley must be put on hold for now, there is no reason for your holiday to be joyless (pardon the pun). Iron Horse is offering $1 two-day shipping on six bottles of your choosing or the show stopping magnum of Joy!
Place your order today to receive your wines in time for Thanksgiving.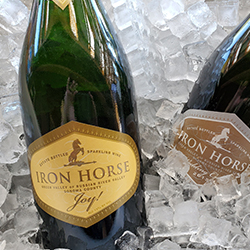 Iron Horse Vineyards Joy!
Thanksgiving is all about the meals…and leftovers …. especially with limited gatherings this year. This gift set includes a bottle of 2005 Joy! Blanc de Blancs aged 14 plus years en tirage and a champagne stopper for those occasions when you just can't finish a magnum in one sitting, plus $1 shipping on a magnum … as our gift to you.
Purchase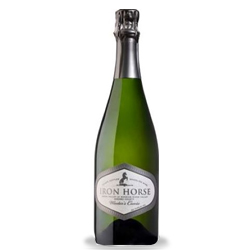 Iron Horse Vineyards Winter's Cuvee 2016
Winter's Cuvee is a unique, festive vintage Sparkling Wine, created expressly for our wine club members, visitors to our tasting room or for special gifts. Production is very limited. It is ideal on a frosty, cold night when you feel like cozying up with some bubbles. $68.00
Purchase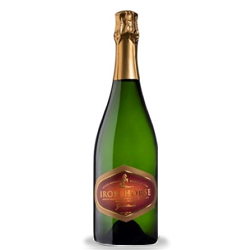 Iron Horse Vineyards Gratitude 2013
Gratitude is a special, limited production 2013 vintage bubbly that expresses everything we feel for our community. This is our fourth vintage of making Gratitude. Every year, $5 a bottle sold goes to the Redwood Empire Food Bank, providing critical food both in times of disaster and every day for those in need from Sonoma County to the Oregon border. We are very proud that this is tête de cuvée, top of the line, caliber – aged six plus years en tirage.
Purchase

Bryn Mawr Thanksgiving Week-End 'Take Home' Experience
If you will be in Willamette Valley wine country over Thanksgiving weekend, you already know that the tasting rooms will not be offering onsite tastings (thanks to COVID-19), but our friends at Bryn Mawr have created a special experience to be enjoyed at home or in your cozy hotel suite.
Enjoy a delicious and fun wine tasting experience at home. Take-Away Experience serves 2 people and includes 2 mixed flights of 5 wines, 2 BBQ sliders, 2 chicken & waffle skewers, and 2 chocolate truffles. We'll load the Experience into your car contact-free to enjoy your Experience at home.
Tip: Call ahead to purchase a few full size bottles to bring home too. You know you'll want more than a taste to enjoy over the weekend.
Available November 27th - 30th only

St. Helena Little Book of Big Experiences

Your VIP Access to 14 of Napa Valley's Favorite Wineries with Unique Curated Experiences:
• Wine & Food Pairings
• Opportunities to Taste Rare Batch Wines
• Private Wine Tasting Experiences

$75 for over $800 Value!
Little Book of Big Experiences is valid November 15th – June 30th, Monday—Sunday, unless otherwise noted.
Guests must be 21 years or older.
Reservations are required.
Groups no more than 6.
It is highly encouraged to purchase wine from each stop and please remember to tip your server at ALL our wine experiences.
Limit of one guest per Little Book of Big Experiences.
Featured Upcoming Events

Want to see your events featured in our newsletters?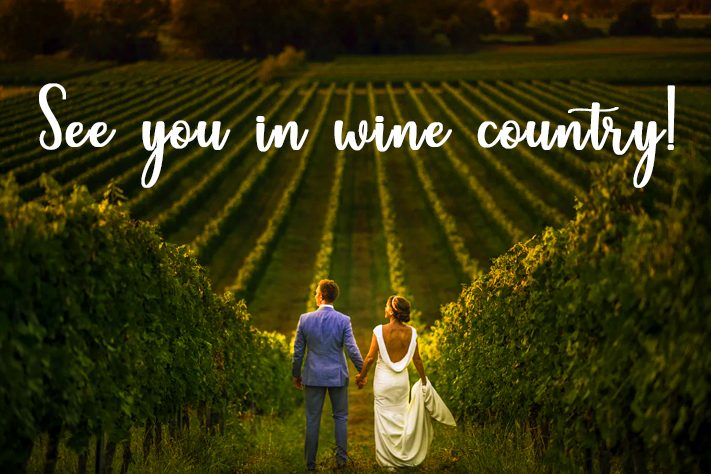 Subscribe to our Newsletter
Join our mailing list and be one of the first to know about upcoming local events.
Categories